Melissa Chito
How GIFs Can Help Your Brand Stand Out In 2021
Updated: Jul 3, 2021
When I say the word GIF, what comes to mind? Perhaps a scared cat jump? A dancing baby? A hilarious reaction from a movie or TV star?
GIFs have been around for a LONG time, but they are as a popular today as when they first made their appearance. This is great news for small businesses because used in a strategic way, they are an awesome marketing tool that is affordable and help your business stand out online and in emails!
So let's start with the basics... what is a GIF?


A GIF is an animated image file. That's it! The power of the GIF is its simplicity to create movement without video that captures the readers attention and pulls them in.
Did you know that GIFs were first created back in 1987?


They were responsible for some of the first viral images and really gained momentum and popularity in the 90's. Who remembers the dancing baby? Once you see it, I doubt you will ever forget it...
Why GIFs for Small Businesses?


GIFs are a way to help small businesses stand out, get noticed, and to stay relevant on social media and your online communication strategies such as email and blogs. GIFs are easily sharable and quick to go viral if you hit the right audience with the right message and image.
Similar to using emojis, GIFs can be used to share feelings, reactions, and generate an emotional connection to a message, content, or ad. This is a powerful tool to have in your marketing and advertising tool box.
Think of a time when you were celebrating a win - sharing a GIF that illustrates your emotions in that moment (like the one below that went viral years ago and is still widely used today) helps you convey that feeling in a fun way that draws people in and helps them share in that win with you.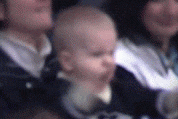 But what makes GIFs so unique and why do we just love them so much?
Fascinated by human psychology (probably the biggest reason I love marketing and design so much!) I am often trying to understand the reasoning behind why we as people do what we do and the reason we react the way we react.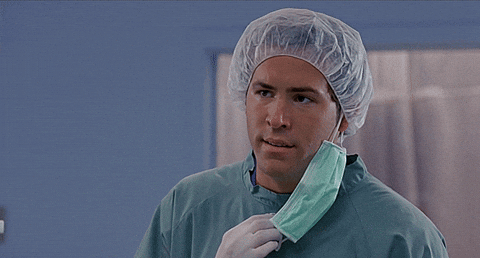 So in my quest to understand the "why" of images or GIFs being so popular - I came across this fascinating article that speaks to exactly that. Why as humans, we connect on such a deeper level to images.
A few key highlights from the article:
The human brain can process images over 60,000 times faster than text. 😳

90 percent of the world's data has been created in the last two years alone. 😲

90 percent of information transmitted to the brain is visual. 📷
The conclusion? The more visual the content is the more the content will drive engagement.
GIFs can help connect us with the world around us.


In our opinion, strong visuals like images or GIFs will connect better, faster, and in a more meaningful way that just text. In a stream (or newsfeed) of social media posts and images, GIFs have short quick movements that capture the eye when scrolling, and the quick images are retained and digested by our brain much more quickly, providing a more memorable experience over static images and in some cases videos (which tend to be long in length and require more focus or attention than a GIF).
GIFs also help your brand's personality shine through. GIFs can really set the tone for your brand in a more interactive way than just photos or text. They can provide a glimpse into who you are as a company, brand, or person.
Are you a light hearted, approachable brand that prides itself on positivity? Do you give back and support your community? Using GIFs can help you connect with your audience by sharing in similar values, triggers, and moments that go beyond sales and products.
A great GIF used in the right way can make your audience take notice and say "Wow! They just get me!". Think of all the mom GIFs out there where us moms know instinctively that GIF was made just for us. The GIF below from Schitt's Creek I bet resonates with every single mom out there. I know it was 100% how I felt when my first son was born...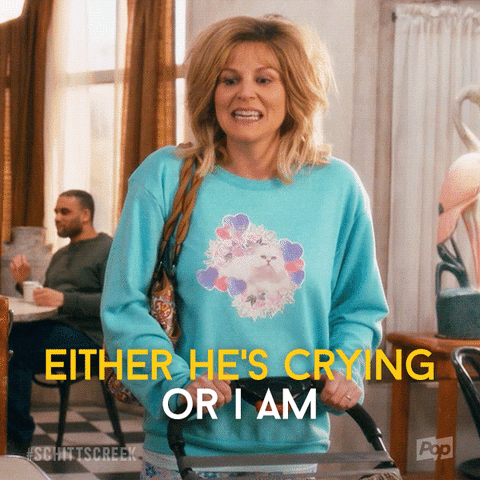 Using GIFs can help increase awareness for issues that matter to help you find likeminded people to join your cause. Using GIFs can help build awareness and reach the people who can help.
In 2020, #supportlocal has become an important initiative all over Canada. Our local community businesses have been hit hard with COVID restrictions and many are struggling to stay open. Using social media, community support, and creative ways to spread the message (like GIFs) has helped remind people to support local businesses and restaurants.
How can Small businesses use GIFs?


As small Business Owners and Entrepreneurs, we can use GIFs to help us connect with our audience, share our messages, and help grow our businesses. This can be done in a few ways.
1. Social Media


As mentioned before, GIFs can help us get noticed and stand out by capturing our customer's attention who is mindlessly scrolling through their social media feed.
The images paired with quick movements will not only help us stand out, but will make us more memorable. This means our posts, content, and information will be more easily consumed.
In our experience, GIFs have been an effective tool to help audiences stop scrolling and start clicking. Especially on Facebook. GIFs really help to get our content noticed and increase not only engagement but conversion as well - which is important when we are concerned with our budget - both for content creation and advertising itself.
Sweet Tip: Try using a GIF to share a new blog post, landing page, or offer to help increase its engagement and reach. The visual and interactive nature of GIFs will help boost your content by standing out and providing a better experience for the audience than just a static post.
2. Email Marketing


Email marketing continues to be one of the most effective ways to help drive conversion for small businesses. Adding a GIF to your emails can not only help you stand out more among hundreds of emails in your customers in box, but can also help make you and your brand or products more memorable.
Creating a stronger connection with your customers and ultimately driving increased conversions and sales. Use them in newsletters or promo emails and as part of a bigger marketing campaign.
Sweet Tip: Don't forget to include a strong call to action so your customers know what to do once you have their attention! Don't make them guess. That is a potential lost opportunity for marketing and sales!
3. GIF vs Video


A GIF isn't really all that different to a very short video. The end result is pretty much a short video that can be uploaded. So why would you choose a GIF over a short video for Social Media? There are a few reasons depending on your needs. Some clients reach out to create GIFs because of budget.
To create professional production quality videos can be expensive. Anyone who has looked into this knows that video budgets are often big and small businesses cannot always afford that - not to mention they can also be incredibly time consuming.
The good news is that GIFs can help bridge that gap! Using photos, graphic designs, and other media to create a GIF (even when working with a graphic designer) is often more affordable and can be done in a shorter amount of time than video creation. This helps small businesses stay competitive, agile, and offering them an interactive media solution to stand out online and on social platforms.
Sweet Tip: As with any piece of content, make sure you are creating your GIFs with purpose. What is the goal? Who is the audience? What results do you anticipate? This will help you evolve and be more successful with your GIFs and marketing over time.
4. Online Advertising
Being heard above all the noise online is getting harder and harder. Small business advertising budgets are often smaller and therefore if you are looking to stand out and be seen by your ideal audience, you need something to help them stop scrolling and start clicking on your ads and posts.
GIFs are a great tool to help you stand out and be competitive with some of the larger businesses online.
In 2017 Facebook added GIFs to its Ad creator tool set which was a great way to leverage these tools for advertising to help set yourself apart from your competition and help you stand out in their newsfeed.
Sweet Tip: Create your advertising plan first - know your copy, your call to action, your goals, and your anticipated results before you start creating your visuals and your GIFs.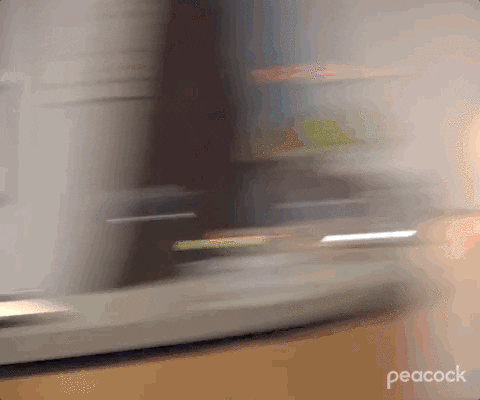 Will GIFs continue to be popular in 2021?


YES! Based on the trends we saw over the past few years and in 2020, we believe GIFs will continue to be popular not only with social media users but the social media platforms as well.
Many social platforms including Facebook and Twitter have built in GIF search functions.
And all those stickers we love so much? GIFs!
It's amazing how we use them so much throughout our everyday online experience.
According to Social Media Today, Facebook has big plans for GIFs. In addition to adding the GIF search function Facebook purchased GIPHY, a GIF database for sharing and searching for GIFs, in early 2020. Facebook plans to bring GIPHY to Instagram in the near future. "A lot of people in our community already know and love GIPHY. In fact, 50% of GIPHY's traffic comes from the Facebook family of apps, half of that from Instagram alone. By bringing Instagram and GIPHY together, we can make it easier for people to find the perfect GIFs and stickers in Stories and Direct." ~ Facebook News Release


GIF Obsessed


To sum up, not only do we love GIFs, but we are a little obsessed with them (we also love Schitt's Creek if you can't tell 😜). GIFs have been around for a long time and we anticipate they are here to stay!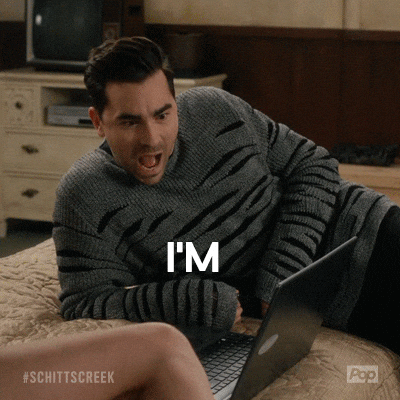 Not sure how to get started using GIFs in 2021? Book a virtual coffee chat with us! We would love to help answer any questions you may have and talk about how we can help you get started on your GIF journey.